My last stop in Cambodia, near the Northern border with Laos, was Banlung. In Banlung I booked a two night/three day jungle trekking trip into Virachey National Park.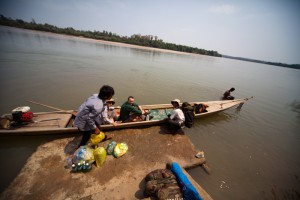 To get to the jungle we had to take an hour and a half drive by car to a river and then another hour ride by boat before we started trekking.
We had two porters/guides, one was from Banlung and the other was a indigenous tribesman from a village in the national park. Our boat driver was also from the tribal village in the jungle. He informed us that he was getting married the same day we were returning from our trek.
In all honesty, we (me and the two guys from the U.K. that I was trekking with)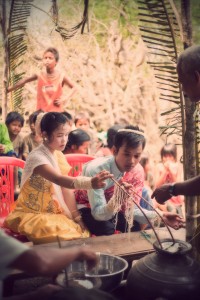 were a bit skeptical thinking that maybe this was just a show they put on for trekkers as an extra "surprise" on the trip. However I can say without a doubt it was the real deal (or an Oscar winning performance).
Photographing a wedding for someone who would otherwise not have any photographs from one of the "happiest days of their lives" was probably one of the most rewarding experiences yet.
Not too mention nearly the entire village (100 or more people) were at the wedding, and of course I couldn't leave them out. This village was the most remote village I have traveled to yet, which also increased the significance of this shoot.
The wedding was quite different to a traditional western wedding. I really enjoyed it. There was a much greater sense of togetherness and community participation. It seemed like the entire community was contributing, be it by helping the couple get prepped, making the food, bringing booze all the way from Banlung, etc.
This was my largest print run yet, with over 80 photos printed and delivered. Here is the gallery.